Rotary Lock Technical & Installation Data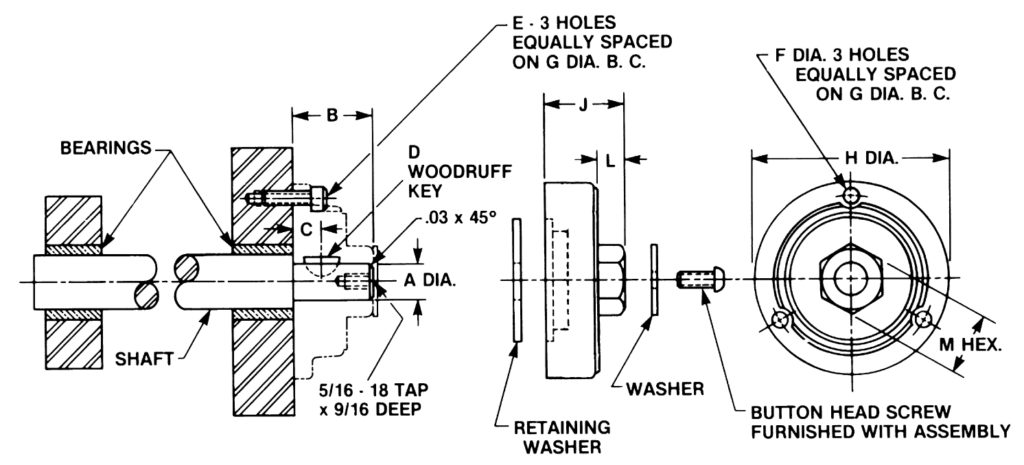 PART NUMBER
MIN. SHAFT DIAMETER
DIMENSIONS
A
B
C
D
E
F
G
H
J
L
M
  EE581
 5/8
.6250/.6240
 1-3/8
 7/16
 405
 5/16-18
 11/32
 2-5/8
 3-1/4
 1-3/8
 15/32
 1-1/16
 EE681
 3/4
 .7500/.7495
  1-19/32
 15/32
 506
  5/16-18
  11/32
 3-3/8
 4
 1-19/32
 9/16
 1-1/4
 EE781
 7/8
 .8750/8745
  1-7/8
 17/32
 507
 3/8-16
 13/32
 3-3/4
 4-1/2
 1-7/8
 21/32
 1-7/16
 EE881
 1
 1.000/.9995
  1-31/32
 17/32
 607
  3/8-16
 13/32
 4-1/2
 5-1/4
 1-31/32
 3/4
 1-5/8
 EE1081
 1-1/4
 1.2500/1.2495
  2-5/16
 5/8
 807
 7/16-14
 15/32
 5-1/8
 6
 2-5/16
 15/16
 2
Capacities
| | | | | | |
| --- | --- | --- | --- | --- | --- |
| | | (1) | (2) | (3) (4) | (3) (5) |
| Rotary Lock Cat. No. | Woodruf Key Size | Torque to Shear One Soft Key Cat. No. | Torque to Shear One Harden Key | Torsional Shear of High Strength Shaft | Torsional Shear of Medium Strength Shaft |
| 581 | 5 | 110 ft. lbs. | 242 ft. lbs. | 1,393 ft. lbs. | 905 ft. lbs. |
| 681 | 8 | 200 ft. lbs. | 441 ft. lbs. | 2,415 ft. lbs. | 1,569 ft. lbs. |
| 781 | 10 | 242 ft. lbs. | 613 ft. lbs. | 3,836 ft. lbs. | 2,493 ft. lbs. |
| 881 | 11 | 382 ft. lbs. | 829 ft. lbs. | 5,737 ft. lbs. | 3,729 ft. lbs. |
| 1081 | A | 555 ft. lbs. | 1,204 ft. lbs. | 5,305 ft. lbs. | 5,305 ft. lbs. |
Footnotes:
Based on an unharden key shear of 60,000 P.S.I.
Based on a harden key shear of 130,000 P.S.I.
Based on one key in shaft
Based on an shaft material to be 100,00 P.S.I. tensile
Based on an shaft material to be 65,000 P.S.I. tensile
Harden key material:
8630 – 40/50 Rc
Tensile= 175,000 P.S.I.
Shear = 131,250 P.S.I
Wrench Options
Part Numbers
A
B
C
D
E


EE581
 6
 15/32
 1-5/64
 2-3/8
 8
EE681
 6-3/4
 9/16
 9/16
 3-1/4
 10-1/2
EE781
 8
 21/32
 1-15/32
 3-1/4
 12-1/2
EE881
 9
 3/4
 1-21/32
 4-1/8
 14
EE1081
 11-11/16
 15/16
 2-1/32
 4-1/8
 17
Notes:
Shaft material should be of a high-yield strength variety to take full advantage of locking potential of lock.
Socket head cap screws recommended for mounting locks.
Retaining washer and buttonhead screw furnished with each lock.
Shaft must be supported by bearings suitable for application.
Locks designed for slow-intermittent service.
Locks may be actuated and fitted with handles. Also may be fitted with chain sprocket, for remote operation or a wide variety of mechanical arrangements.
End thrust of shaft must be provided for by suitable means.
10 RPM max.
Rotary lock holding force will exceed the torsional shear of the shaft it is mounted to. Based on the shaft being made of material with 100,000 PSI tensile strength and one woodruff key.
Locks designed for rotation against load. NOT with load. Lock will chatter when rotating with load. Please check with our engineering department for proposed new applications.