Clamp-N-Jack Machining Clamp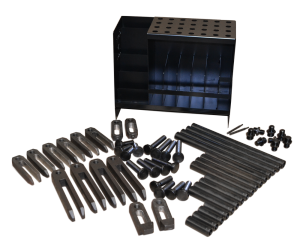 When its time to get down to business, rely on the Clamp-N-Jack machining clamp set to take care of business.
The Clamp-N-Jack is a highly flexible, durable and safe, clamping system for T-Slot tables, capable of handling any job, large or small. The Clamp-N-Jack is a modular system that allows for countless configurations, consisting of a series of support tubes, adjustable swivel bases, studs, and several types of straps.. The Clamp-N-Jack can handle very large pieces, with tubes that can be coupled together easily to achieve various heights, while width and length are limited only by the dimensions of the T-Slot table.
The Clamp-N-Jack system is hardened to Rockwell "C" hardness of 34-38 with a black oxide finish for long life and maximum strength, and built with exacting precision and tight tolerances, which offers several benefits including:
Secure and Tight Clamping, Resulting in Higher Quality Output
Increased Safety and Stability
Longer Use Life
Easier to Assemble and Disassemble
Clamp-N-Jack is ideal for:
Fixture for securing Molds
Machining Large Parts
Horizontal Milling / Boring Mill Clamping
Clamp-N-Jack has been used successfully for decades to clamp large parts for horizontal milling, fixturing molds for machining, and for clamping parts in aerospace or gas turbine manufacturing.
Clamp-N-Jack Master Sets make all of your work holding, faster, easier and more dependable.
The Clamp-N-Jack Master Set or Utility set will help you safely and effectively clamp and fixture all variety of parts for any milling operation. From one piece to many, the set is easily reconfigured to meet any work holding challenge.
A variety of components have been selected for the different standard sets. The Master Set and Utility Set differ only in the number of component parts included in each. Individual or multiple additional pieces can be purchased to outfit your standard set to meet your unique and specific clamping needs. Each set is furnished with a bench cabinet and all parts are arranged so they can be selected quickly
Master Set A – For use with Tee Slot Stud Bolts 1/2″ to 7/8″ Dia.
Master Set A-1 – For Use with T-Slot Bolts 5/8″ to 1″ Dia.
Utility Set A – For Use with T-Slot Bolts 1/2″ to 7/8″ Dia.
Utility Set A-1 – For Use with T-Slot Bolts 1/2″ to 1″ Dia.
Standard Jack Set
Low Jack Set
Clamp-N-Jack stud sets and component parts
Pricing and Availability for Clamp-N-Jack Machining Clamp
Please let us know what standard set you are interested in, and contact us at (517) 680-7933 for pricing and availability information.