Clamp-N-Jack A Series – Adjustable Work Holding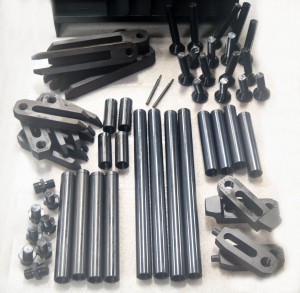 Clamp-N-Jack provides adjustable work holding for all different shapes and sizes of parts. Clamp-n-jack can be used in fixturing and clamping large parts for horizontal boring mills or any other type of tool room work where odd shaped parts are the norm.
Components are selected for packaged sets. The Master Set and Utility Set differ only in the number of component parts included in each. Each set is furnished with a bench cabinet and all parts are arranged so they can be selected quickly.
CLAMP-N-JACK
Catalog No.
MSA
MSA-1
USA
USA-1
Tree Slot Stud Size:
1/2-7/8″
1/2-1″
1/2-7/8″
1/2-1″
Support Tubes:
4″ & 8″
4
4
2
2
12″ & 20″
4
4
Swivel Bases:
2″, 3″, 4″, & 5″
4
4
2
2
Straps:
4 3/4″ Straight
2
2
6″ Straight
4
2
2
7″ Finger
2
2
8″ Straight
4
6
2
8″ Gooseneck
2
2
2
2
12″ Straight
4
Tube Couplings:
8
8
4
4
Cabinet:
Heavy duty plywood
Heavy duty plywood
Shipping Weight:
137 lbs
150 lbs
42 lbs
You're screen is too small to view this table properly. Please view on a larger screen
| STANDARD JACK SET | SJSA |
| --- | --- |
| Jack bases | 4 |
| Jack screws | (4)3″ & (4)5″ |
| Pin Wrench | 1 |
| Support tubes | – |
| Shipping weight | 15 lbs |
You're screen is too small to view this table properly. Please view on a larger screen
| LOW JACK SET | LJSA |
| --- | --- |
| Jack bases | 4 |
| Jack bodies | 4 |
| Jack screws | 4 |
| Pin wrench | 1 |
| Shipping weight | 15 lbs |
You're screen is too small to view this table properly. Please view on a larger screen